This post contains affiliate links.
What does it take to bake a pie? How about a square pie? Maybe you've heard of a slab pie before—it's a fairly recent addition to the pie-baking world. But baking a slab pie is not difficult at all. For a square-shaped slab pie, all you need are a few basic ingredients and the ability to follow a few simple steps.
To bake a square pie, preheat your oven to 375 degrees Fahrenheit. Using a rolling pin, roll out the pie crust into a square shape then transfer the crust to a 2-inch deep square baking pan lined with parchment paper. Next, spread the filling evenly over the crust and bake for 25-30 minutes.
Making a slab pie is an easy way to get that perfect, crispy crust that you crave. Learning how to bake this pie the right way will give you the perfect variety of pies to bake for the holiday season. In this post, I will be giving you some simple tips for baking the perfect slab pie while giving you a more detailed look at how to make a slab pie.
Do Pies Have To Be Round?
As a general rule, a pie does not have to be round in order to be considered a pie. The shape of a pie is determined by the shape of the baking pan that it is baked in. Pies can be baked in many different shapes and sizes as long as they are baked in a deep enough pan to fit the pie filling.
In fact, I often bake square, star, heart, or other shaped pies. However, there are a few reasons why pies are almost always round:
Round pies are easier to mold into a circular shape
They bake more uniformly
They are cut into slices, convenient for sharing with friends and family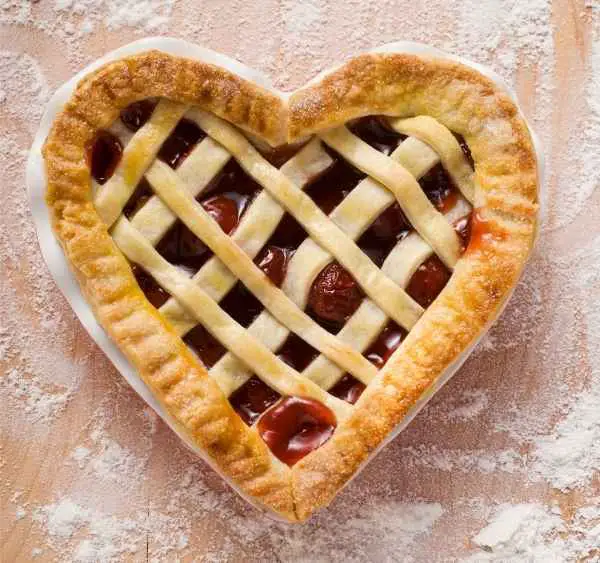 I usually specifically look for Ceramic Pie Pans when baking pies. I recently came across a Set of Two Ceramic Pie Pans for Baking that work perfectly for baking pies in the oven with no problem. You can check out this Set of Ceramic Pie Pans on Amazon!
The reason why we see so many round pies around the baking community is that baking round pies are usually the easiest option for many people.
Can A Pie Be Square?
As a general rule, a pie can be made into a square shape. There is nothing wrong with baking a square pie as long you have the right ingredients and the right recipe. Make sure that you use a deep enough square baking pan to be able to fit all of the pie's filling.
Square pies are becoming more and more popular with every passing month. Some people feel that baking a square pie gives them more bang for their buck. Thus, they can get more servings out of the same recipe.
I personally agree with that mindset. Since square baking pans have more surface area than round ones, a bigger portion of pie can be made at one time.
*By the way, you might also want to know What's The Real Difference Between A Sweet Potato Pie and A Pumpkin Pie. I recently wrote an article that explains Their Similarities and Differences and how to tell them apart!
The only problem I found with baking a square pie was that every pie slice cut out won't have even portions of pie. One slice might have a corner crust piece, while a different slice will not!
It's also easier to bake 2 square pies in the oven at the same time. Since both pies are square, you'll be able to fit them next to each other well inside the oven.
How to Make A Square Pie?
To bake a square pie, you will need to adjust your recipe to the size of the square pan. Since square pies have a bigger surface area than round pies, make sure to leave the pie in the oven for 5 minutes longer. Make sure that the measurements are adjusted for a square pan.
You can use any basic homemade pie crust recipe. Here are the ingredients and procedure:
Ingredients:
One cup of flour (I used whole wheat pastry flour)
Half teaspoon salt
Two tablespoons of cold butter or margarine cut into pieces
Coldwater
Square pan
Instructions:
Step One: Preheat your oven to 375 degrees Fahrenheit.
Step Two: Whisk together the flour and salt in a medium bowl.
Step Three: Add the butter or margarine and use a pastry cutter or two forks to cut the butter until it is coarse crumbs.
Step Four: Add cold water and toss with a fork until dough starts to form. It should just come together as a ball, not stick to the bowl or be dry and floury. If it is too wet, add more flour in small amounts; if it is dry, sprinkle with cold water- you don't want it to be wet.
Step Five: Place the dough on a lightly floured surface and use your hands to form into a disc.
Step Six: Roll out the dough until it is about one inch bigger than your pan all around.
Step Seven: Transfer the dough to your pan and press into the bottom and up the sides. Trim off any excess dough.
Step Eight: Prick the bottom of your crust with a fork and bake for about 15-20 minutes or until golden brown.
*Side Note: You might also want to know How To Bake Multiple Pies In The Oven At Once. I recently wrote an article that talks about The Right Way Of Baking Many Pies Evenly At Once!
How to Make A Square Pie Crust?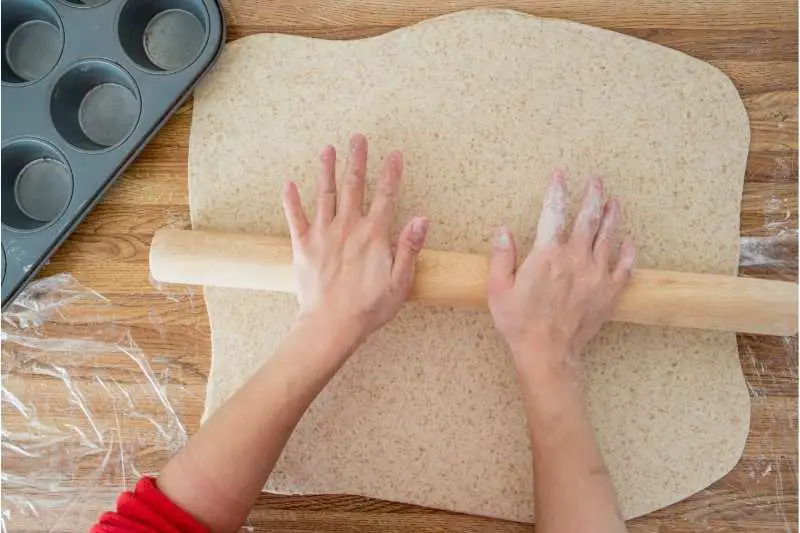 To make a square pie crust, use a rolling pin to roll the pie dough into a square-shaped crust. When putting the square dough into the pie pan, make sure that the square-shaped pie crust will be long enough to fit the bottom as well as the sides of the square pan.
To make the square crust you will need a cup of flour, half a teaspoon of salt, and two tablespoons of butter or margarine that has been cut into pieces.
Proceed as follows: You want to cut your butter or margarine into small pieces and add it to the flour.
Use a pastry cutter, two forks, or even one knife (but be careful!) to cut in the butter until you have coarse crumbs. Then slowly pour ice-cold water over the top while using your utensil of choice to mix in with the flour/butter mixture.
Keep mixing until the dough forms a ball- you don't want it to be too wet or dry. If it's too wet, add more flour; if it's too dry, add cold water in small increments.
Once your dough is perfect, place it on a lightly floured surface and use your hands to form it into a disc. Transfer the dough to a square pie pan and press it into the bottom and up the sides. Trim off any excess dough, prick the bottom of your crust with a fork and bake it for 15-20 minutes or until golden brown.
How to Turn a Round Pie into A Slab Pie?
To turn a round pie into a slab pie, add extra pie dough to the crust of the round pie to give it 4 corners. Transfer it to a 2-inch deep baking pan and add additional pie filling. Adding extra dough to the crust will increase the surface area of the pie giving it room to stretch into a square pan.
You will, however, need to adjust your baking time because a slab pie is usually thicker than a regular round pie. I usually add 5 minutes to the baking time to let the insides of the pie bake for longer.
Make sure to keep a close eye on your pie since it could also be done sooner depending on the size of the square baking pan.
I've been using Ceramic Pie Weights for as long as I could remember and it saved my pie crusts on so many occasions. As a general rule, you should use about 2.2 lbs of pie weights for every 9-inch pie you make. I use these Ceramic Pie Weights that you can check out on Amazon!
What Pan Can I Use If I Don't Have A Pie Pan?
If you don't have a pie pan, you can still bake your pie by using: Tart pans, cake pans, baking sheets, muffins pans, casseroles, and square pans. These are some pie pan substitutes you can use to bake your pies. Make sure to adjust the baking time appropriately with each pan.
Here is a list of some of the alternatives to pie pans:
Square pan: A square pan is the most similar to a pie pan. However, you will get square pies, and you might have to adjust the amount of filling that you put into your pie.
Casserole: I have seen friends use a casserole dish for baking a pie. The pie comes out just fine. However, If you are not an experienced baker, I would not recommend it as the crust to filling ratio will be off because of the shape and size of your pan.
Cake pan: A cake pan is not the best option for a pie. However, if you are in a bind and do not have any other pans, it will work. Just be careful when transferring your pie to the oven, as cake pans tend to be flimsy.
Tart pan: This is another good option for baking a pie. However, tart pans are smaller than pie pans. This means that you will need to adjust your recipe accordingly.
Muffin pan: This option is similar to the tart pan. However, you are going to get smaller pies, so your recipe will need adjusting as well.
Baking sheet: If you don't have any other options, a baking sheet will work just fine for baking your pie crust. Just make sure that it has raised edges so that the filling doesn't spill over.
FAQs:
Can a pie be made in a square pan?
On average, you can make pies in a square pan. Leave the square pie in the oven for about 5 minutes longer than required. Since square pans are usually larger in the surface area than round pans, make sure to adjust the pie's recipe accordingly depending on the size of the square pan.
What size square pie is the best?
As a general rule, the standard size for a square pie is eight inches on all sides while using an 8×8 square baking pan. This will give you plenty of room to fill it with your desired filling and have a nice crust-to-filling ratio. This size pie could serve up to 8 people once cut into squares.
I recently came across a great Set of 2 Premium Non-Stick 8-Inch Square Pans on Amazon. These pans are 2 inches deep and work perfectly for baking a Square Pie!
To Summarize…
Pies are delicious, and they can be made easy or difficult- just like anything else. Slab pies allow a flaky and consistent crust and generous filling to be done in one pot, helping bakers avoid major stresses and messes.
I've baked many round pies throughout my years as a baker, however, knowing the right way to bake a square pie was very rewarding. It brought back the excitement I had to bake something new while at the same time adding another masterpiece into my baking cookbook!